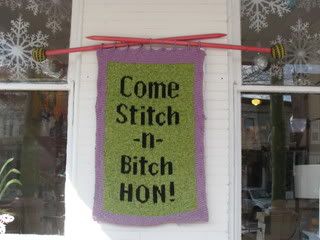 Much fun was had on Saturday when Miss Cathy, Large Marge and myself took off for Hampden for a visit to Lovelyarns.
As soon as we entered we were greeted by fresh baked goodies. Now that's a welcome! I blame their hospitality for making me fall off the stash appreciation wagon and purchasing some sock yarn and a t-shirt. The sock yarn was a must, it was called 'Opening Day' and was an Orioles colorway. (Hello training camp!) I also found the long sought after Berrocco sock yarn in purple and red for my mother, who thinks the Red Hat Society is a hoot.
Men and women filled the shop, and it was great to see so many guy knitters! The shop is adorable and it gave me lots of inspiration to knit my bedroom decor. All in all, a great trip.
Later in the day I got a chance to show Storm Moon how her 'I kissed a girl' sock yarn is knitting up, and she loved it. Turns out the girl never gets to see her stuff knit up. I'm using her yarn for my February Sock Knitters Annonomous socks. This month's socks are to use a new heel turn, and I chose to try out the Band Heel. When you are finished turning the heel and picking up your stitches, there are no decreases to be worked. It's very cool, and I'm so glad that CrackRavelry has paid off for me and I found this group!
I'm also working on my Greenery Hat and loving it as well. Hope to have finished item photos soon.
Happy Knitting for Me Monday!