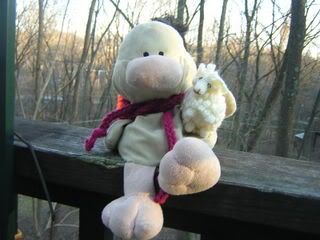 Duckie and the little sheep (yet to be named) had a wonderful time hanging out together yesterday. They were fine with chicken being on the menu, although I think I did hear one of them shout, "Christmas is carnage!" No more watching "Babe" for either of them.
This is what my Jaywalker looked like yesterday afternoon. It looked different last night, and then it looked like th
is again. Why? Because I apparently can't read directions properly. I'm not sure what it means, but the whole world has made the Jaywalker their first sock of 2007. I'm not one to want to knit what everyone else is knitting, what's the point in making a hand knit item that everyone else has? However, I'm so loving this sock that I just don't care if everyone has 10 of them. Jaywalkers for everyone! Perhaps it's all of the spring weather awakening my sock urge early this year. Usually I'm not this sock crazy until April.
Happy Knitting!