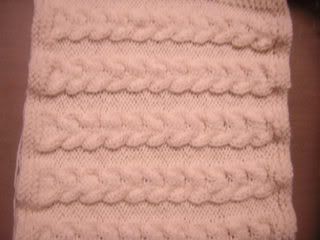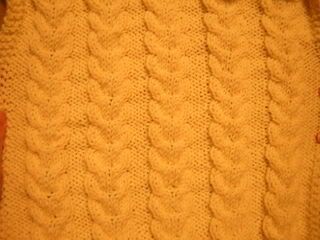 Can you believe these are two pictures of the same block? This is my first completed block for the aran afghan. It is the horseshoe cable block from Janet Szabo. The photo on the left shows the direction the cable will be in the afghan, and the photo on the right shows the true color of the yarn. I picked this block to be my first block for two reasons. First, it was easy :-) Second, the horseshoe cable was appealing to me because my children have been volunteering at a local horse rescue farm. The photos were taken on New Years Eve, so if you are having trouble seeing the cables- it's not you.
The block I am working on now is from the Great American Aran Afghan and is designed by Dagmara Berztiss. I'm about a 1/4 of the way done with it.
My afghan is already sharing time with other projects, however. I felt the need to cast on my Jaywalker socks with one of my Opal yarns. I LOVE this sock. The colors are yummy and the pattern is mindless. I'm using size 1 needles for the first time in 3 months, and it is taking a little getting used to :-)
Off to the job for more yarn money. Happy Knitting!