Here it is. The yarn that took surprisingly little time to purchase last Saturday morning. Starting off the group are three skeins of 'Four Play' from Brooks Farm. The picture is misleading. They actually are all the same colors. This will probably be the first of the yarns that I dive into, considering I have the urge to start winding it today.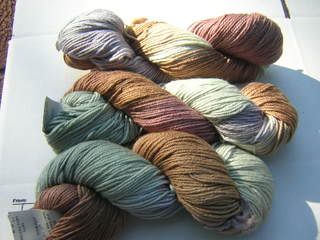 This stunning blue lace weight yarn is 'Zephyr' from A Touch Of Twist. Great price! I can't wait to get my lace Addi Turbos so that I can start knitting it into something awesome from 'Victorian Lace'.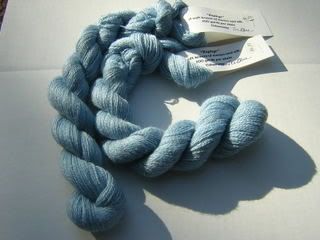 I think everyone hit up the 'Cotton &Ecospun' yarn for 99 cents. These skeins are future washcloths. The navy Alpaca also came from the same vendor.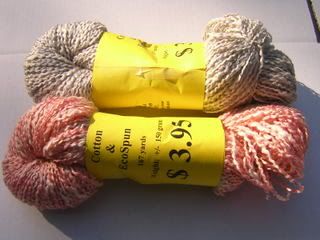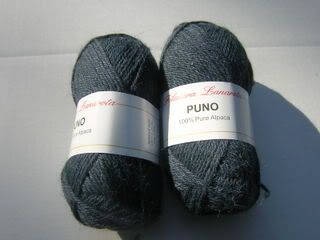 The 'Road to China' from The Fibre Company was a yarn I had spotted last year and was upset that I had not gotten. It is 65% Alpaca 10% Cashmere 10% Camel 5% Yak and 10% Soy Silk. An added benifit this year is that is was 40% off!!!! Yeah me!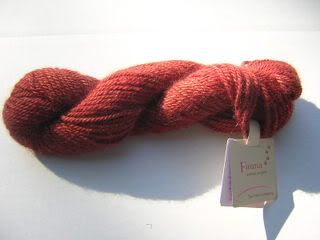 I simply fell head over heals with this next yarn from Hill Farm, which by the way is right here in Westminster, MD. The yarn is 'Rare Breed Yarn' and it is yummy. Miss Sheila has a sweater made out of this yarn, and it is impossible to stop touching. I think this will be a great mobius scarf since I can't seem to stop snuggling against it.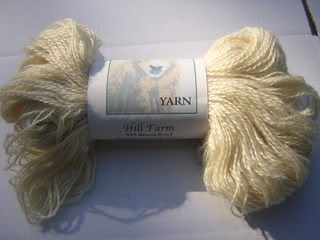 Now for the sweaters. Pine Tree Knits claimed that this was their last year at Sheep and Wool, so I bought two sweater's worth of 'Bartlett Yarns' from them. I saved you the torture of the big pile of wool picture. Trust me, these two skeins represent many others.
I'm off to finish up a second sock do that I can start playing with all of my new yarn.
Happy Knitting!