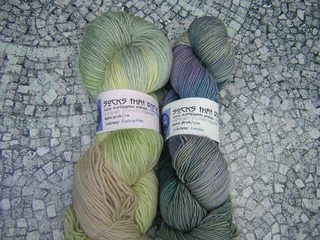 Sunday was spent learning how to use a drop spindle and searching for roving, so my yarn purchases were very light on this day. For this reason, I will start my photo display on this day.
First up was the Socks That Rock. To the right is the 'Lunasea' and to the left is a heavy weight yarn 'Footzey-Foo' that I am kicking myself for not getting more of now that I have read the Yarn Harlots blog and seen the oversize shawl she made out of just three skeins of this stuff! Two would have been perfect. Yet, I have one. Figures.
Next up is a wonderful light green heather(can't tell from the picture) sock yarn that I can't wait to do crazy cables out of. It's from Cestari.
Last, and certainly not least, is another item that I had not fallen pre
y to in years past, yet it came home with me this year. Four skeins of Tess microfiber ribbon and a pattern for a lace summer sweater. Miss Sheila near to fell off her chair while mocking me. She thinks this slippery stuff will be kicked to the corner in a hurry. I say it's for summer knitting when I need a break from sock knitting. My only problem with the project is a comment made by the owner as I had already paid for the yarn and was picking up my pattern. She told me that the yarn reacts weird to the sun and will darken and lose it's luster. Well! This could be a slight issue if I plan on maintaining my current sleep schedule and am awake during sunlight instead of moonlight! Not an issue with sale yarn, but this stuff was a big splurge.
More on Saturday's big haul later. Happy Knitting!