Many people have been trying to steal my great backpack since the end of the festival. I was very happy with my decision to not get a t-shirt this year and go for the backpack instead.
One of the main things I wanted this year at Sheep and Wool were gadgets. I didn't find any cute sock blockers, but I did get a great seven inch double pointed needle holder. We know that it's seven inches because we messed up twice getting it. Thank goodness the people at Autumn House Farm are so nice! It's the long woo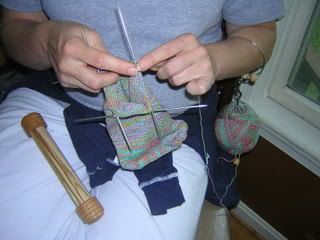 den thing on my lap. (More impressive in person.)
The other interesting item of note in that picture would be the sock bling hanging off of my right arm. The yarn hangs off of your wrist, making socks even that much more portable. This was a great find from Susan's Fiber Shop. It was spotted elsewhere for $3.50 more than I paid, but I won't mention where that was. Considering I also purchased one for Large Marge for Mother's Day, the savings was appreciated! The kids are so excited that I can easily tote my socks everywhere now. NOT!
Lots of yarn porn tomorrow, since the majority of my haul has yet to be shown.
Happy Knitting!