More Pictures!
Everyone loved holding the Storm Moon Knits yarn.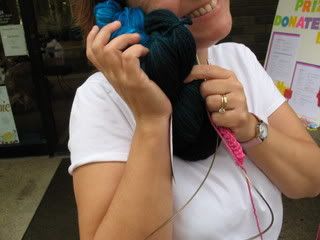 Here is our mascot of the day. Buggy! What kind of a bug buggy is, we do not know. I do know that buggy loves fiber! Buggy would not stop loving our hand knit items!
Behold! The two amazingly awesome skeins of Neighborhood Fibers sock yarn that were donated by the designer herself. We are not worthy! Luckily, there was not a fist fight over this yarn, so I think Mr. Mike will invite us back next year.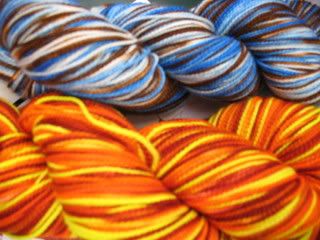 Team Knitting was great! Knitters of all ages and experience levels can participate.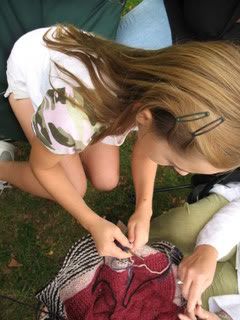 All of the navy was knit at the Knit-A-Thon. The blanket changes colors ever time it is at a new event so that it tells a story of the knitting process. Each color way is like a ring on a tree trunk. The navy grew bigger and bigger as the day went on. For those of you interested in working on it again, the blanket will be at the Oct. 17th Central Maryland Knitting Guild meeting, as well as the Oct. 18th sit 'n knit at the Lakeside Cafe.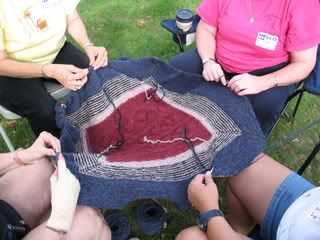 Now, on to Stitches East! Only two days until my first event on Thursday.
AAUUUGGGHHH!!!
Does anyone want my class on Friday????
Please!
Happy Knitting.