Time for some Knit-A-Thon 2007 pictures!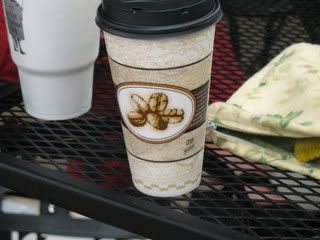 The first coffee of the day went to Miss Sheila. She arrived at 8:30 (or so I'm told since I was running behind and didn't arrive until 9).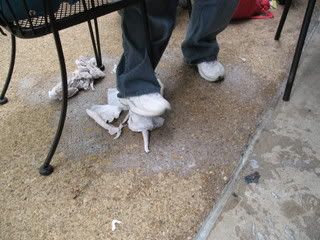 The first spill of the day went to Miss Kathy L. The time was not recorded.
I am quick to point out that Miss Kathy's spill joins my spill from the 2006 Columbia Arts Festival. The stain is still there. And apparently lonely and in need of companionship. Which it now has!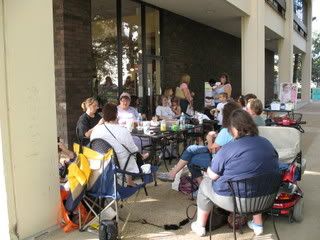 Lots of knitters found the Lakeside Cafe. For some, it took awhile, but they found it none the less. Some of these knitters even brought goodies, such as home made Oatmeal Chocolate Chip cookies!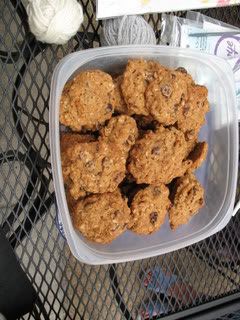 Yummy cookies are always the way to introduce yourself to a new group of knitters! Thank you Miss Laurie.
I must run off to work and post more pictures later.
Before I do, I would very much like to thank Miss Carol from the Celtic Knot. As the organizer of the Knit-A-Thon, I get to arrange for some pretty darn awesome prizes to be given out. Occasionally, it makes me quite sad to have to part with some of these items. The plan is to try to make sure EVERYONE leaves the Knit-A-Thon with some sort of prize to thank them for their hard work. Exept me of course. This year Miss Carol took note of my reluctance to part with one particular prize, and very very kindly sent Large Marge to deliver me a prize of me own yesterday. Yes, it's true. I am now the proud owner of my own Size 'S' (for Sam) crochet hook from
Elanore Francis
!!!!!!!!!!!!!!!!!!!!!!!!!! Thank you Miss Carol!
A huge thanks also goes out to Miss Beth for introducing my family to Berger Cookies. How have I lived in this state for 12 years and not had their yummy goodness before????
Happy Knitting!