A lovely new gal joined us on Thursday night for sit 'n knit. When she was showing us what she was working on, I fell in love with the 'Calorimetry' from Knitty she was knitting with Patons Soy Wool Stripes. I of course had some sitting in my stash, so while I was in Pittsburgh I whipped one up, and here it is!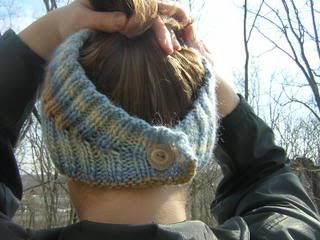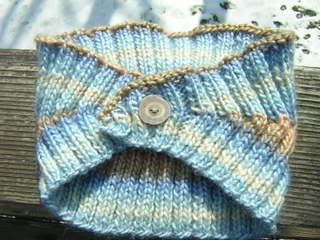 The button is the antler button that I purchased while I was there. I actually bought three different sizes of buttons since I didn't know what size I would need.
My daughter has requested one in different colors. I would have to modify it, since this one is huge on me. It was so quick and mindless, the child might actually get one in between all the socks that I've got lined up. By the way, aren't you proud that I knit something besides socks!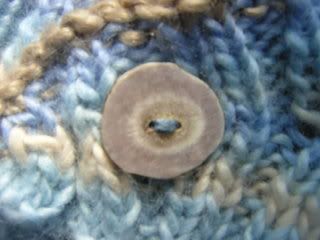 Those of you who know me know that I am having a difficult time pronouncing the 'Calorimetry', and it has somehow undergone a name change between Large Marge and myself. It is now being referred to as the 'High Colonic'. What can I say? I got into Penn State because of my math skills, not my verbal. Those of you who read this blog often will agree with that statement. Proper sentence structure has never been a top priority with me, and spell check is my best friend.
On to the big news of the day. My first shipment of Socks That Rock are officially on the way. Many e-mails arrived in my inbox telling me the good news. I've have to hurry up and finish my last three inches of the second Crusoe sock so that I am ready for the big day!!!!! Lots of sock knitting got done at Borders yesterday thanks to Miss Sheila. Thanks to her retirement, she is available for last minute sit 'n knits that last many many many hours when you feel like playing hookie from work. Bad influence enablers are always welcome in my world!
Happy Knitting!