Thanks to Large Marge, you can now check out the photos of the Granite Socks That Rock in the Crusoe pattern from Knitty. Yummy!
I didn't have any of my finished projects with me at Sit 'N Knit tonight , so these are the only photos I've got for now. May be next week I will remember to haul out my finished goods.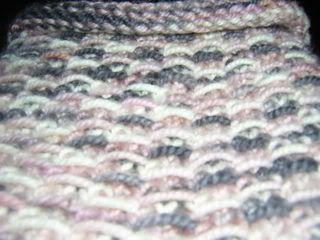 I'm off to Pittsburgh for my mother's 75th Birthday Party. Here's hoping the trip is uneventful heading over the mountains while there are wind gusts of over 55 miles an hour, and for the return trip with icing in the forecast. All prayers are appreciated.
Happy Birthday, Mommy!