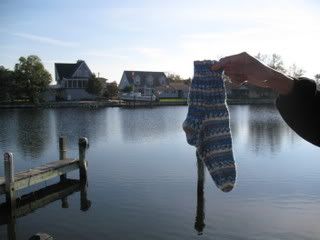 I finished my son's socks, so now I can get back to the sock I had wanted to knit for myself. Storm Moon Knits colorway Cyndi Lauper! YUMMY! It is a dream to knit with and I could just lick it it's so pretty.
Too much work, kids, and life have left me with very little knitting time this week. This means I will not be finishing my Tilted Duster in time for my reunion. This also means I have to shop for an outfit. Ick.
So I'm shopping for an outfit at a local boutique and a gal tries to sell me a $128 knit poncho. She tries to tell me how wonderful it is because it's hand knit. It wasn't even a good quality yarn. $128?????????? I didn't even think ponchos were still a trendy item! What do I know?
Happy Knitting