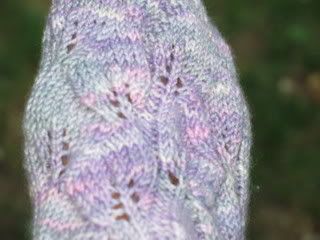 Give me a 'D'
Give me an 'O'
Give me an 'N'
Give me an 'E'
What's that spell?
Embossed Leaf Socks! That's whats that spells!
My son could not be happier due to the fact that his socks are up next. As a matter of fact, I'm turning the heel on his first sock already. This is his first pair of socks from his mother, and he was very soon to losing patience waiting for them. Don't blame him really, considering how many his sister and I own. I'm doing his in some self striping blue and brown 'OnLine' sock yarn. Hope I don't like them so much that I try to steal them. That
would
be bad!
Here's hoping I get them done in lightning speed to get on with those 'Cyndi Lauper' socks that I can't wait to work on!
Happy Knitting!