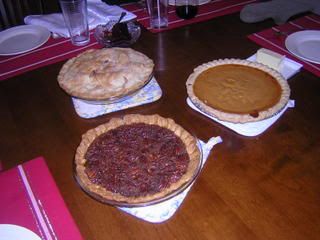 Can you belive my daughter made that yummy Pecan Pie?
I stayed at my sorority little sister's house the night before Thanksgiving. I was feeling all sorts of
snuggly
Thanksgiving morning, so I put on my socks from this year's Sock Wars. After breakfast, my sorority little sister and her husband notice the socks and ask if they are hand knit. I answer proudly that they are, but I did not knit them and proceeded to launch into the story of Sock Wars. I end the story by explaining that the socks on my feet were knit for me by a knitter in Florida, and that it was my second year participating in this event.
My sorority little sister's husband walks up to her, taps her on the back and says, "I
sooo
do not want to hear another word about how weird
my
friends are!!!" She shoots back a glare and says, " Your one friend is a
Wiccan
!" He responds, "Yeah, and this is
definitely
weirder!!!"
OMG
! How is Sock Wars stranger than being a
Wiccan
?????????????
I decided to research this
Wiccan
thing to see exactly how weird an outsider views Sock Wars.
Wikipedia
tells me that
Wiicca
is the religion based upon practicing magic and that the members identify themselves as witches.
I get the fact that I am a sheltered Christian woman, but how is Sock Wars stranger than this?
Darn those
nonknitters
! They just don't understand.
Of course there is probably a
Wiccan
out their saying, " Darn those
nonwiccans
, they just don't understand!"
Happy Knitting!