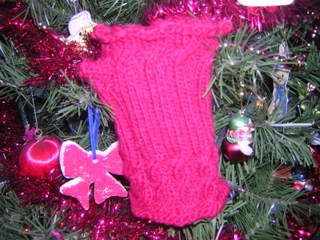 A 'Fetching' mitten hanging out in my Christmas tree. My camera seems to like the tree more than the cables. I made them out of Meunsch yarn 'Bel Air' and was pleased to have them finished so quickly. My son, however, wants to know why there isn't a scarf to go with the mittens. There's always a critic!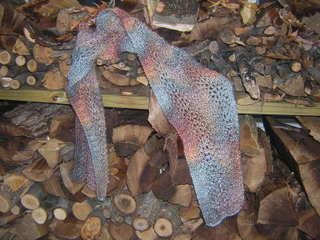 I finally finished my mother's 'Old Shale' scarf made out of Brooks Farm 'Harmony'. She found out that I was knitting the mittens for someone else and told me that she would love a hat for Christmas. Think I could tell her to wrap it around her head and pretend that it's a hat? Probably not. Back to the drawing board. Now I need to knit a matching hat. Good thing there was a ton of yarn left over!
This is the Storm Moon sock I was working on when these last minute Christmas demands started pouring in. The second sock had been started and I had thought that I would make tons of progress on it this weekend. HA! I have a feeling this poor, lonely sock will be single for a little while if this is a sign of the Christmas season I have before me.
Remember to knit for yourself tomorrow since it's Monday! Holiday or not, you need some me time.
Happy Knitting!