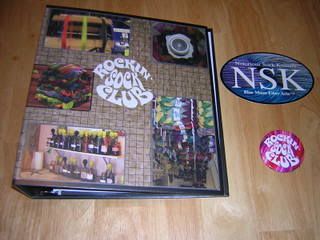 IT'S HERE!
My first package arrived today containing my binder to hold all of my patterns and newsletters, a button and a bumper sticker (the bumper sticker stands for
N
otorious
S
ock
K
nitters), my first shipment of yarn, and the pattern that goes with it. The pattern is ever so great. It's called 'Inside Out' because it's reversible. How brilliant!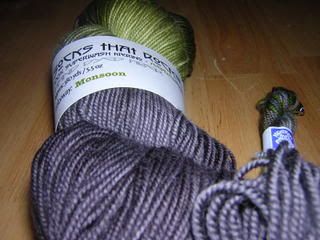 Reversible socks!!!! They are toe up socks, and this will be the first time I use this method for my socks. I'm very excited to work this pattern, except for the fact that they are worked on size 0 and 1 needles. E-Gads! You might be seeing me at Sheep and Wool with these socks.
The yarn color is called 'Monsoon'. My daughter hates it, so you know it's a great color for me.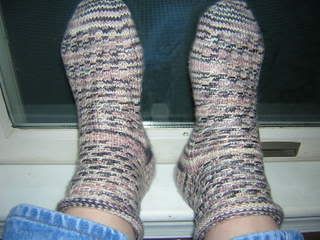 I finished the stranded 'Crusoe' socks last night so you would think this would be great timing to start my new Socks That Rock. Think again. I cast on the 'Monkey' socks earlier today, and I'm kind of OK with just staring at my new yarn for a little while. Or perhaps I'm working up the desire to pick up size 0 needles. Either way the 'Monkey' socks are of course renamed (when don't we rename the Knitty patterns?) to the 'Funky Monkey' socks. The new name suits the fun spring orange color I'm using .
Happy Knitting!