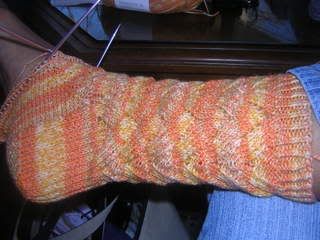 The 'Monkey" socks are coming right along! This is Large Marge modeling them at Sit 'n Knit earlier tonight. Even she agreed that they feel yummy. Of course, she might have been saying that to make me stop talking about how yummy they are. I have to admit that the entire time I was at the Lakeside Cafe this evening (three and a half hours) I got a total of 16 rows knit on the socks. I think we should rename our gatherings to Sit 'n Talks. Very little productive knitting is getting done these days. This is not a complaint- just an observation.
Here's a shock, I've got new sock yarn. I had an exchange to do at a yarn store and it was calling my name. I had to take it h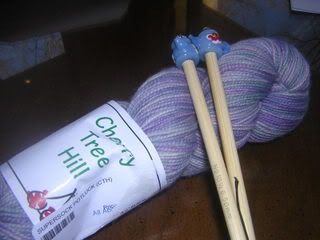 ome with me. It's like visiting the animal shelter and leaving without a pet. Impossible! The yarn is photographed here with the needles that Large Marge got for me. Those are little tea pots at the top of the needles. Too cute!
Happy Knitting!