It's picture time!
First up is the first finished project of 2008. The Old Shale Scarf.
Next up are the Felted Mittens. I doubt with the winter we are having that I'll get to use these anytime in the near future, but a gal can hope.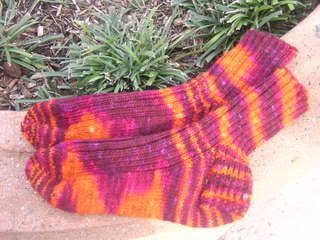 These are the amazing Storm Moon 'Cyndi Lauper' socks I've been drooling on. How fun are these?!?
Last are the work in progress Storm Moon 'Pretty in Pink'. Horrible last minute photo, but I'm loving every stitch.
Yeah, I finally posted pictures! See, I actually do finish projects. Hopefully, if I keep up with photographing all my knitting I'll actually know what I knit at the end of this year. I couldn't tell you at the end of 2007 what all got done because almost all of it was stolen from me by those non-knitters
Off to knit more of my socks!
Happy Knitting!