Remember that McDonald's slogan "You deserve a break today"?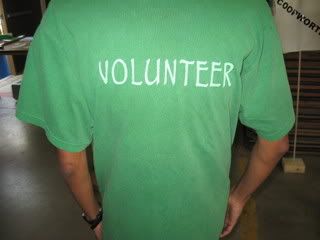 This is the t-shirt you get from the 2008 Maryland Sheep and Wool Festival when you volunteer to help set up for the fleece sale.
We moved tables, made signs, and got to see everyone before the festivities began.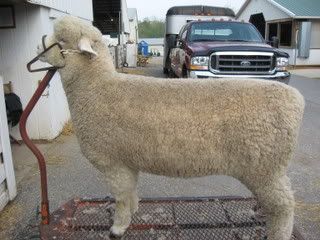 This was the first sheep to greet us.
This is the main exhibit hall before everyone arrived with their yarn goodies.
I thought that I would give you a wonderful picture of a preview of 'Socks that Rock' from 'The Fold'. Yummy colors!

This morning was just what I needed. A break from everything while getting to lend my time to the festival.
My daughter called me while I was there and I think she was very happy that she is safe at Hopkins so that I can't drag her to this year's festival. My son found refuge at a friend's home for th weekend so that he will be out of the was as well. Wow. You would think that I made them stand in line with yarn while I shopped for more yarn when they where wee children. Oh yeah, I did :-)
Hope you enjoyed the preview pictures of the weekend!
Happy Sheep and Wool!