Thanks to Large Marge and photobucket we now have images from Hopkins.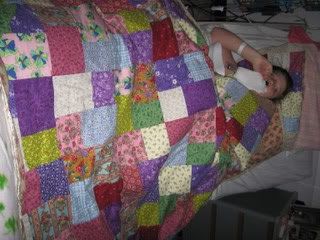 This is the handmade quilt I was telling you all about. That blob underneath of the quilt would be my daughter sucking on a popsicle.
Thanks to Miss Beth for dropping by everybody in our house's favorite food, Berger Cookies! We had no idea what these were until Miss Beth introduced us to them, and now the kids refer to her as Miss Berger Beth. I do not think that there could be higher praise for anyone. ;-)
My daughter and I went on to Ravelry together last night, and she picked out a hat she would like me to knit for her when she loses her hair soon. This is a big step since before she was not even discussing the option. The hat is (I think) the Pi hat, and is the first hat you find under patterns for chemo caps on Ravelry. She had a house call from a yarn shop and picked a lime green 'Dark Hourse' yarn to have it made out of. Now that is what I call service!
The boy child is not being forgotten, and tonight was great bonding time for us both. I love the one on one time I get to have with him, and he loves the fact that I am not constantly asking about his school work since I am officially a bad mother and have given up asking. We have bigger fish to fry right now. Cop out I know. But it is what it is.
More pics tomorrow. Happy Knitting!