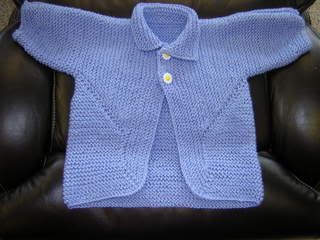 Surprise!
Nothing like the last minute. I finished the jacket yesterday at 4pm. The baby shower was today.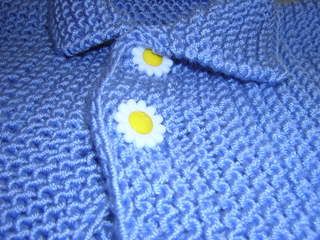 The yarn is Gloss DK and the color is King Cole Cornflower.
Now to finish that squid hat and I can move on to knitting for fall.
Speaking of knitting in the fall, that could only mean one thing... it's time for the annual Knit-A-Thon
!!!!!
Saturday October 6 from 10am-4pm (or later!) we will once again take over the Lakeside Cafe and knit for charity. I've already been making some hats for the babies. This year we also will be taking pet blankets for those cute homeless furry friends in Howard County.
Not only will there be door prizes this year, but contests as well! A prize for most charity items donated, best pink scarf, best baby hat, and best pet blanket will be awarded.
If anyone would like to donate door prizes to this great event, please let me know. Things keep popping up and I have a feeling I will be having a lot less time to plan this year's event than last year. Help is always appreciated.
Also, I know some of my favorite knitters will not be able to make this year's event. Please know that you can still donate your hand knit items before or after the event. If you donate ahead of the event I will make you eligible for the contests, but you must be present to win a door prize.
Hope to see you there!