I got to use my new felted mittens to clear the snow off of my car after work today. Yeah! I'm so glad that I knit those.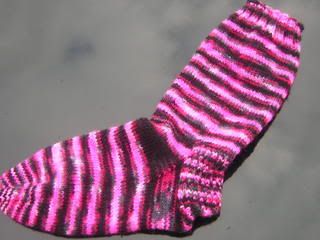 My second sock is ready to have it's heel turned just in time for my daughter to swear that these must be being knit for her birthday coming up very soon. She, who is a great knitter but does not like to do so, even picked the darn things up to knit a round. I'm starting to think the kid has a point. But can I really give the 'Pretty in Pink' colorway to someone who doesn't even know that this was a movie- and is still too young to see said movie?????????
Only eight days left until we start to knit for Christmas 2008. The 25th of every month will be dedicated to knitting gifts for the upcoming holidays. We all know what a bind we get into at the last minute, so lets get a jump on those gifts together! Pick your pattern and yarn this weekend so that there will be no excuses for not being prepared next Friday.
Enjoy the snow, and Happy Knitting!