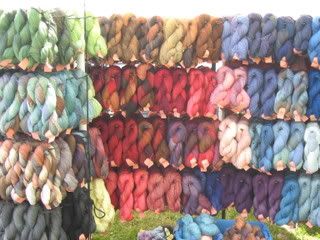 I've been picture free on this blog for a couple posts, so I thought I would add a random yarn shot from the Brooks Farm booth at Maryland Sheep and Wool Festival. This was taken Friday before the mass of knitters arrived. It's so yummy. It makes me feel warm and happy inside. Surprisingly, I did not take one single skein of this home with me this year. There's always next year!
The next big event in the world of fiber was supposed to be The Mannings Spinning Seminar in June. This is such a wonderfully relaxing and restorative day in the peaceful country side of south central Pennsylvania. (The people at The Mannings do not know it yet, but I am planning on retiring in their front yard!) This is also a day where the local church women sell food and homemade rootbeer to all of us fiber folk. It's still a couple of weeks away, but it doesn't look like we will be out of Hopkins by then. If this is the case, I am going to have to try to make my own rootbeer. I've got spare yarn and roving. The home made rootbeer cannot be missed.
Perhaps my focus needs to switch to the upcoming Stitch 'n Pitch events in the area. The Orioles, the Nationals, and the Bowie baysox are all having Stitch 'n Pitch events this year! How much fun! A day at the ball park surrounded by my favorite knitters. Sounds like a great way to spend an evening.
Today is Circus Day on the daily holiday calendar. Knit yourself something colorful and fun. Remember that Sunday is the 25th of the month, sop plan your Christmas knitting project now. only 7 more months to get those knitting projects ready for gift giving!!!!!!
Happy Knitting!